The kitchen is so much more than just a place to prepare food, it acts as the central hub in your home where the entire family come together and share meals, spend quality time, and entertain guests. The kitchen should foster a sense of connectedness within the household, providing a space that is a joy to be in due to both its aesthetic beauty, and its functionality.
At Urbanedge Homes we understand that every homeowner has a unique vision for their ideal kitchen, so we take the time to find out what is important to you and design a unique space that perfectly reflects your lifestyle. Our Drafting Specialists can tailor any design to your specifications, while our Glasshouse Colour Consultants can assist you with the selection of your colour schemes, appliances, fixtures and finishes. If you are dreaming of creating a stand-out kitchen but are unsure where to start, here are some important considerations that will turn your dreams into reality.
A Touch of Luxury
As enjoyable as it is to muse over colour selections and crockery, creating an ingenious design with a luxurious layout should be your priority. If you have the space, a prep room is the ultimate feature that will take your kitchen to the next level. A prep room adds a concealed area to store items and prepare food, allowing you to hide away unsightly dishes and ingredients and keep your kitchen pristine as you entertain guests. You can fit out your prep room with an additional oven or cooktop, sink or dishwasher and plenty of power points to keep your small appliances including the kettle, toaster and microwave easily accessible while hidden out of sign. Fit out your prep room with open shelves to create a beautiful display, or closed cupboards to tuck things away.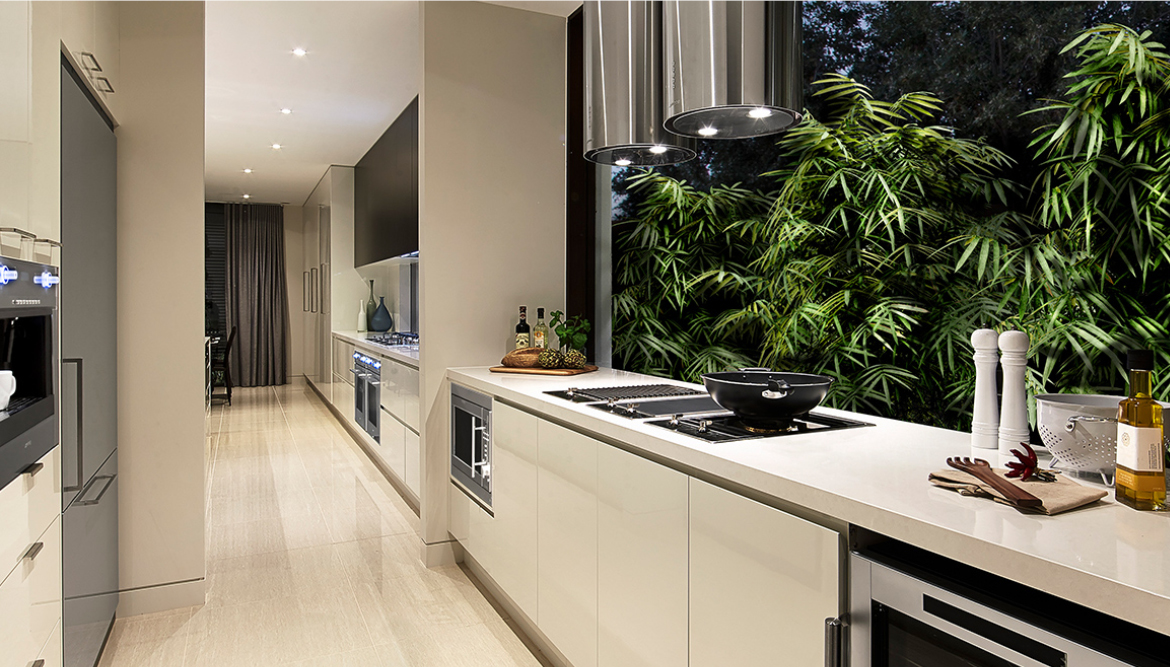 Another design feature that can add a touch of luxury to your dream kitchen is the island benchtop. In contemporary open-plan designs, the island is the standout piece. To really make a statement, consider a waterfall edge with your benchtop surface cascading down the sides of the island onto the floor. This beautiful feature instantly gives a stylish finish to any kitchen! Finish off your feature island by installing an undermount sink for a seamless appearance that enhances the aesthetics of your kitchen.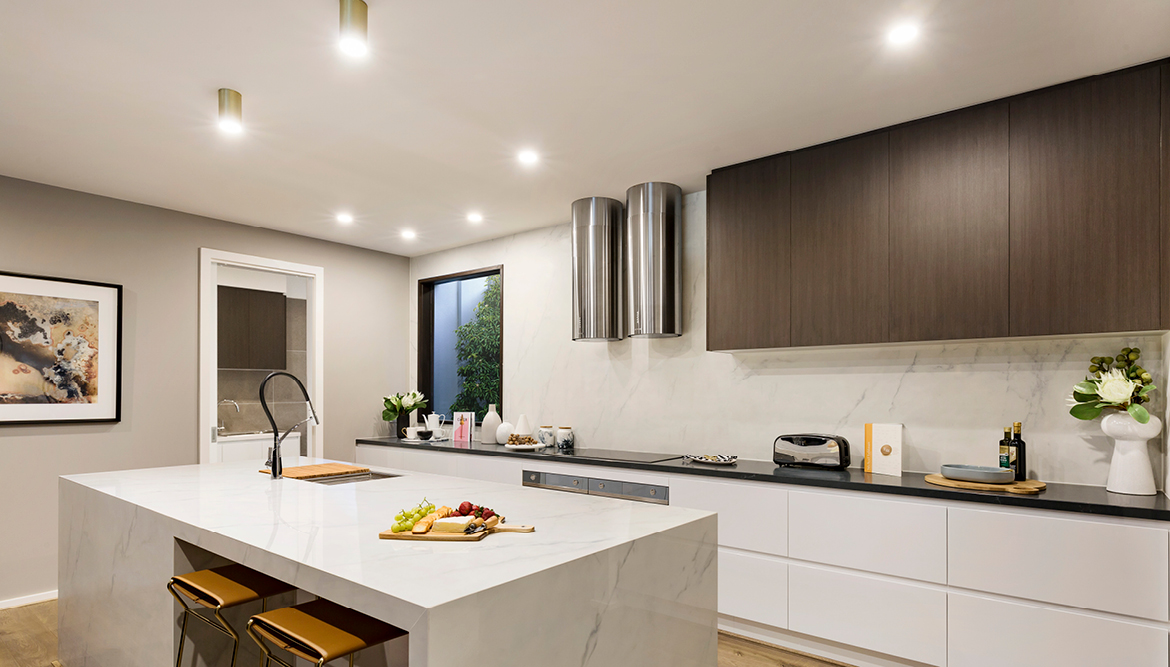 A Splash of Style
The kitchen splashback can change the entire look and feel of your kitchen, and there are many materials and styles to consider. One of these options is the window splashback; it allows for natural light to stream in and enhances the feeling of space. Clever placement of plants outside the window will add a touch of greenery to your space, adding life and bringing the outdoors in. A window splashback holds stylistic longevity, they won't date quickly and will ensure your kitchen remains stylish! If your kitchen layout doesn't allow for a window, a standard glass splashback is another popular choice that will help you achieve timeless elegance in your new kitchen.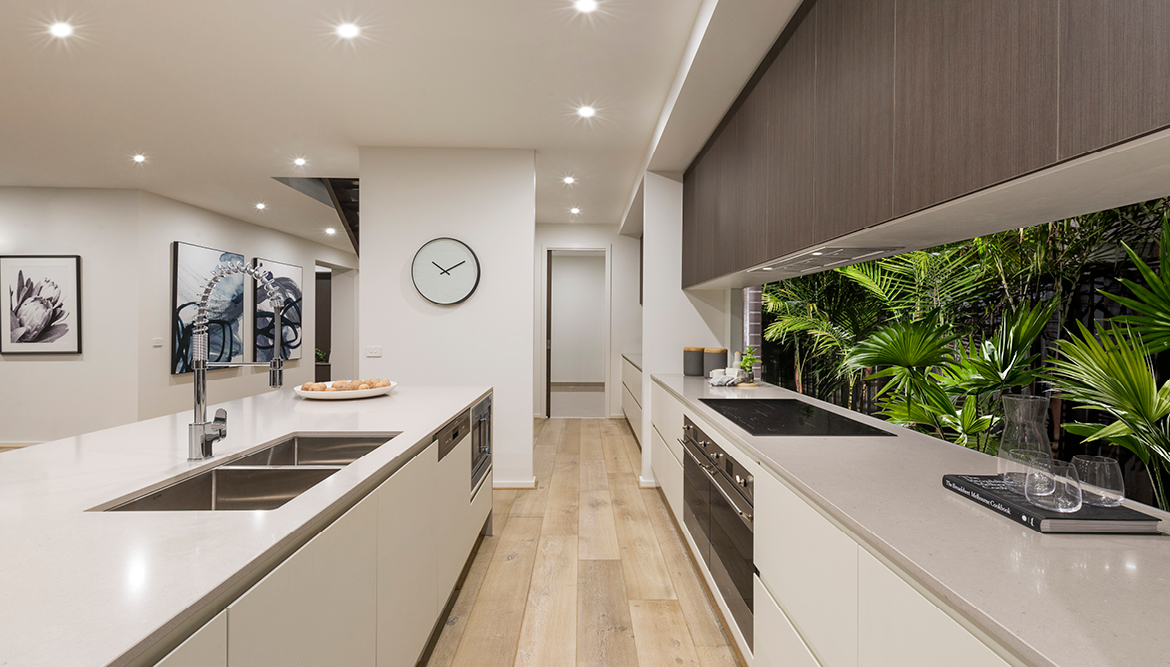 Awe-Inspiring Appliances
Your new kitchen is an investment you will enjoy for years to come, so it is important to select quality appliances that will stand the test of time. Urbanedge partner with premium brands, we provide Smeg appliances as standard due to their stunning aesthetic and high-quality manufacturing. If you are an avid entertainer, consider incorporating multiple ovens into your kitchen design to eliminate the stress of timing the preparation of large meals. Ovens can be placed into an appliance tower or be built in under bench to create a seamless, integrated look. Further enhance this streamlined style with an undermount rangehood that will keep your overhead cupboards looking sleek. If you prefer the look of a gourmet chef's kitchen, then a freestanding oven may be the route for you!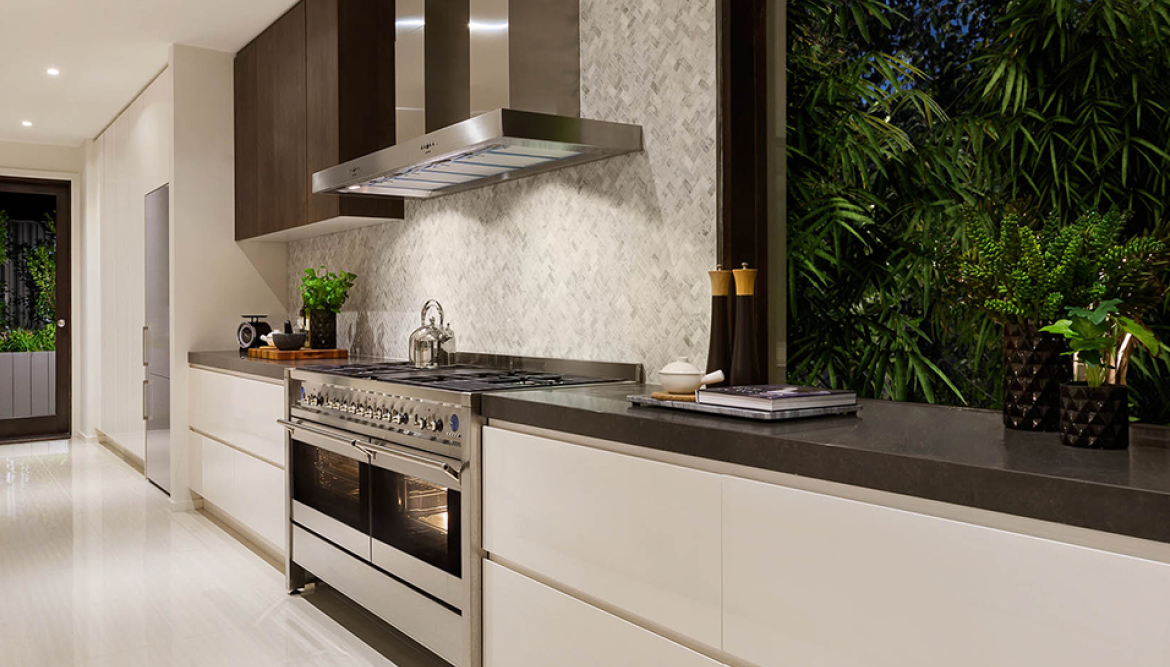 To get started on your dream kitchen, contact us today!